Find Accredited DSTV Installers Near You
Looking for an accredited DSTV installers? Look no further than our network of trusted professionals. With years of experience and expertise, our accredited repair and installation experts are committed to providing top-notch service. 
Find Approved DSTV Installers in South Africa
Welcome to our comprehensive directory of accredited DStv Installers in South Africa. Whether based in bustling Johannesburg, beautiful Cape Town, or somewhere in between, we're here to help you connect with trusted service providers in your province. 
Popular Installations
When it comes to maximizing your DStv experience, proper installation is crucial. Whether you're looking to expand your viewing options with ExtraView, optimizing signal with the right LNB setup, or delving into the advanced features of the Explora decoder, each process requires specific steps to ensure optimal performance. Let's explore what each of these installations entails.
DSTV Explora Ultra Installation
The DSTV Explora Ultra takes your entertainment experience to the next level. It's not merely a satellite decoder; it's a cutting-edge entertainment powerhouse.
With its sleek design and HD features, the DSTV Explora Ultra brings an unprecedented array of content, from international movies to local shows. With intuitive controls and advanced capabilities such as live pause, rewind, and record, it offers more than just TV viewing.
DStv Explora Installation
The DStv Explora decoder offers a richer viewing experience with Catch Up, BoxOffice, and Showmax integration features. A proper installation ensures you can fully utilize these advanced features, access high-definition channels, and enjoy an exceptional viewing experience.
DStv ExtraView installation
DStv ExtraView is a cost-effective solution that allows you to link two or more decoders under a single subscription. It lets you watch different channels in different rooms at the same time. Ensuring the correct installation setup is vital to access this feature's benefits.
Satellite Dish Installation and Alignment Services
Professional satellite dish installation and alignment services to ensure optimal signal reception and crystal-clear TV viewing experience. Our skilled technicians will expertly install and align your satellite dish, making sure it is positioned correctly for maximum signal strength.
Extra TV Point Installation Services
Expert technicians for hassle-free extra TV point installation: Our team of skilled technicians provides professional and efficient installation of extra TV points in your home. We ensure a seamless connection, optimal signal strength, and precise placement to enhance your TV viewing experience.
Surround Sound Installation Services
Transform your home entertainment experience with our professional surround sound installation services. Our expert technicians will skillfully install and calibrate a cutting-edge surround sound system tailored to your space, ensuring immersive audio that brings movies, music, and games to life.
Expert TV Mounting Installation Services
Efficient and Professional Mounting: Our experienced technicians provide top-notch TV mounting installation services, ensuring a secure and flawless installation. We handle all types of TVs and mounting surfaces, guaranteeing a clean and organized setup.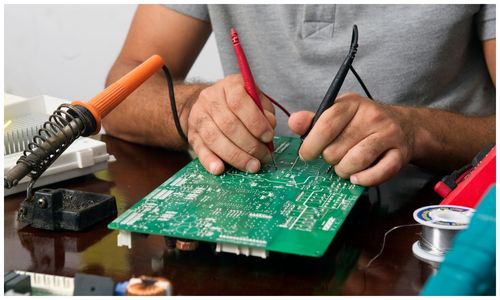 DSTV Decoder Repairs
Reliable and Efficient Repairs: Our experienced technicians specialize in DSTV decoder repairs, ensuring that your decoder is quickly and effectively restored to its optimal functioning. We employ advanced diagnostic tools and genuine parts to deliver reliable and long-lasting solutions.
Here, we have compiled answers to address commonly asked questions about DStv's services, troubleshooting devices, and understanding decoder functionality.
Our goal is to ensure your viewing experience is top-notch, and we strive to offer comprehensive solutions. However, if you can't find the information you need, we encourage you to seek assistance from an approved DStv technician through our website.
How much does a DStv installer charge?
 DStv installers typically charge a labor rate that can range between R400.00 to R750.00 per hour depending on the installation. 
How do I get a DStv technician?
 You can get a DStv technician by contacting DStv's customer support or by booking an appointment on their official website. In addition, DStv-approved technicians can often be found in electronic retail stores or local classifieds. 
Can I install my own DStv?
While it is possible to install your own DStv, it's generally recommended to hire a professional installer. This is because proper installation requires specific tools and knowledge about satellite dish alignment, cable routing, and decoder setup.
What does DStv installation include?
A typical DStv installation includes setting up the dish, installing the LNB, routing and connecting the cable, and setting up the decoder. For a detailed breakdown, you can refer to the pricing list. For example, a 10m cable is included in the price.
How long does it take for DStv to be installed?
The time it takes to install DStv can vary based on the complexity of the installation, but it typically takes between 1 to 3 hours.
Can I install DStv Explora myself?
While technically possible, it is usually recommended that DStv Explora installations be done by a professional to ensure optimal setup and connection.
What documents do I need to get DStv?
 To get a DStv subscription, you typically need to provide your South African ID number, proof of residence, and banking details for debit order arrangements. 
Can you get DStv without a dish?
DStv requires a satellite dish to receive signals for their traditional TV services. However, you can use DStv Now, their streaming service, which doesn't require a dish but does require a good internet connection. 
Do I need DStv if I have Fibre?
If you have Fibre, you may not need DStv if you are happy with streaming services alone. However, DStv may still be useful if you want to access certain channels or live broadcasts not available on streaming platforms. 
How much is DStv now per month?
The price of DStv Now varies depending on the package, with MultiChoice 2023 price listed as R994 per month. 
What is the cheapest DStv decoder?
The cheapest DStv decoder package is available from R29 per month. It comes with a Stream Decoder and provides access to 25+ Channels. 
How much is it to install a dish?
The cost of installing a dish can vary based on the type of dish and the specifics of the installation. For a 60-90m Satellite Dish, the cost ranges from R250.00 to R450.00.